Disavow Tool for webmasters and bloggers from Google is not a newest announcement which gives a little safer position for search professionals around the globe breathed a sigh of relief. It will keep a little advantages due to the penalties laid on them by the Penguin and Panda update.Here is the full coverage -
Instant Identifying Bad Links and Google Disavow Tool Penalty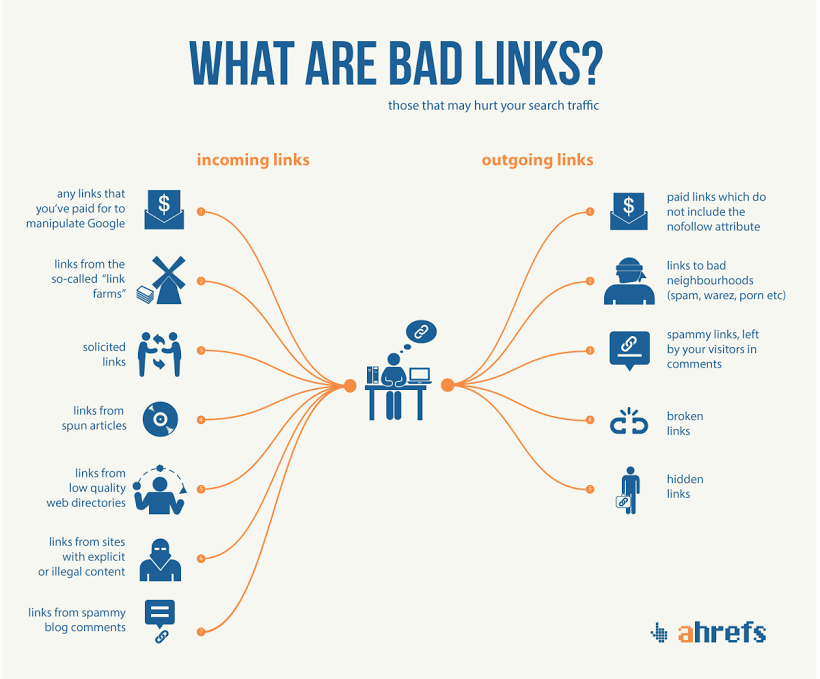 Disavowing Links never Count Votes :-
Webmasters and bloggers can submit a disavow request and Google will automatically process that request and tag those links pointing at own mentioned site in the same manner as if they had the nofollow tag on them. On the other hand in other, as if they are not actually pointing at your site for link counting and analysis purposes as unique mandatory .
Google has stressed that the tool is a last resort after you have exhausted all manual efforts to get bad links removed. Simply ,It can imagine that once Google disavows them that may even lose the good links and eventually own ranking may fall even further in near future.
Penguin Update Changed All : -
Google's Penguin Update has waved the very a to z of
SEO
practices around the global effects such as link building. Until recently, sites linking and many more practices . Another warning has come from Google about unnatural links which can hurt site ranking eventually. This update has come down heavy on the businesses selling links and those have built a spammy link profile by using exact match anchor text extensively as a part of their business .The activity is flagged off by Google as 'unnatural link building tactics' and falls under heavy spamming category. It is seen that many unique and natural sites also are waved by this update .Webmasters are struggling to find a way to fix these link issues and get their site back up and it will give a way via Disavow Tool
The Best Way Of Backlinks Check :-
It is needed to take up the mammoth task of a backlink audit to see where are the toxic links coming in from and how you can get rid of them.
The major indication of Bad links :-
i. Links coming in from poor quality/spammy sites .
ii. Disproportionate anchor text links.
iii. Links from blog networks.
iv. Links from paid posts.
vi. Links from dead & rotting directories.
vii. Links from irrelevant & 'untrustworthy' sites.
Identify the 'unnaturalness' of back links profile :-
v. Blog Comments/Forum Links.
vi. Article Directories links.
vii. Web Directories links.
I am sure , your site will never hit by Google for having unnatural links if it will make comparative analysis with your top competitors each month (at least once).
Best Backlinks checking Tools :-
There are a number of SEO tools give evaluations for backlinks where free and premium version available.
Analysis factors of this tool- Link Position , Link Context , Majestic AC Rank ,
inBound Links
This is a premium backlink tool with a number of functionalities with proper indentification.
In my view , Google Webmaster Tools may be the most effective and free backlinks research tool for bloggers and webmasters.
This tool has paid and version which gives all every thing about backlinks to your site .
It is a paid backlinks tool which offers Number of Links, Types of Links, Number of Unique referring domains, Most extensively used anchor texts, Domains directing the biggest number of links, New links ,Lost links and etc.
Identifying weakest backlinks:-
Bloggers and webmasters can get a report of the links to own site in a descending order of their strengths for further use in Disavow Tool. Once you have the data all about your backlinks then make a list of weakest or un natural links list and then import the data into the Disavow Tool. But the fastest way would be to create a standard email to be sent across the all webmasters requesting link removal. You must include information in this order for removal request such as bellow :
i. You are an SEO or webmaster.
ii. Your site has been penalized by Google.
iii. You are working on recovering from the penalty.
iv. For the same, you need them to remove the links.
Then list the
URLs
of the links they send and the URL of your site they point to, and also the anchor text used for pointing to your site. If you are lucky, then you will get a reply and the link removed from those sites or it is your bad day for you then there will be no response/or there could be demand for payment for the link to be removed from their sites . At that stage, you must keep a record of all your correspondence details with every webmaster and attach that spreadsheet to the
reconsideration request
you send to Google for speedy action. It is better to take screen shots of the emails those are sent to the respective webmasters for removal request .
Webmasters daily do to list :
i. Keep checking your link profile regularly.
ii. Take care of the links from your own sites.
iii. Update your anchor texts.
iv. Aim for a varied backlinks profile by getting links from social media and high PR blogs, High PR forums, Youtube or video sites, and Question & Answers sites etc.
v. You should not use the
disavow links tool
unless you are absolutely sure that the links are negative. Even Google says and warns you when you use the tool.
If you have done everything in your capacity for cleaning your site from bad links effect then it is not sure as you will get replace your previous position.Your site's ranking was good prior to the Penguin and Panda because of these bad or unnatural links and now you are in the trouble mode because of them which is still uncertain when will be recovered .
Final thoughts :-
It is seen that the Google penalty has been removed even there is no guarantee that your site will get the same rank you were at earlier.Your site will now set new standards of traffic and with a clean links profile you can look for better ranking secured as doing nothing, however, It may leave your site subject to an algorithmic penalty in the future.
Contributed by Shazida Khatun
Shazida Khatun is one of the pioneer Lady webmaster from North East Indian state of Assam who loves to develop web site and contents but professionally she is teacher. Catch her on
Twitter